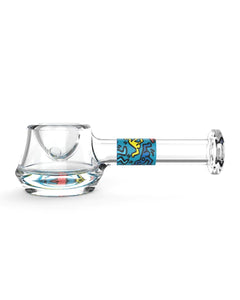 Are you looking to enhance your smoking sessions with a touch of artistry and sophistication? Look no further than the K. Haring Spoon, a beautifully designed smoking accessory that combines functionality with stunning aesthetics. Created in collaboration with renowned artist Keith Haring, this spoon pipe is a true masterpiece that redefines the way you enjoy your favorite herbs.
Key Features:
Unique Artistry: The K. Haring Spoon is not just a smoking tool; it's a work of art. Keith Haring's iconic artwork is beautifully showcased on the handcrafted glass, making every puff a visual delight. Whether you're an art enthusiast or simply appreciate fine design, this spoon pipe is a conversation starter.

Premium Materials: Crafted from high-quality borosilicate glass, this spoon pipe is not only durable but also heat-resistant. It's designed to withstand the rigors of everyday use while preserving the purity of your herbs' flavors. The glass bowl provides a clean and smooth smoking experience.

Ergonomic Design: The spoon-shaped design fits comfortably in your hand, allowing for easy handling and a secure grip. The carb hole is strategically placed for effortless control of airflow, letting you customize your smoking experience to your liking.

Portable and Compact: Measuring at just the right size, the K. Haring Spoon is perfect for on-the-go use. Slip it into your pocket or bag, and you'll have a reliable smoking companion wherever your adventures take you.

Collector's Item: As a limited edition collaboration between two iconic names in art and smoking culture, the K. Haring Spoon is a collector's dream. Each piece comes with a certificate of authenticity, ensuring that you own a genuine work of art.
Why Choose the K. Haring Spoon?
This isn't just a smoking accessory; it's a statement piece that reflects your appreciation for art, culture, and a premium smoking experience. Whether you're a seasoned smoker or new to the scene, the K. Haring Spoon offers the perfect blend of form and function. Elevate your smoking rituals and celebrate the fusion of art and cannabis culture with this extraordinary spoon pipe.
Whether you're gifting it to a fellow enthusiast or adding it to your personal collection, the K. Haring Spoon is sure to become a cherished piece that you'll enjoy for years to come. Don't settle for ordinary when you can have extraordinary – make the K. Haring Spoon your go-to smoking companion today.